Growing up is an essential phase of every kid's life. Along with the physical changes it also brings about a change in choices, likes and dislikes. As they grow out of their baby years, every youngster has the urge to feel grown up, be independent and to experience life to the fullest.

It is at this point that you may want to consider changing the furniture and décor in their rooms. It just seems to go with the transition from babyhood to becoming a growing kid. This may take a lot of patience and time to decide what furniture for kids is the best.

No More Need For The Baby Stuff
No kid would ever want to sleep on that same old cuddly baby bear bed. Things like playhouses, playpens, dollhouses and building blocks will no longer cast a magical spell on them. Perhaps it's time to change out the bedding with the ABC blocks to princess or Star Wars-themed sets.

Snow White's mirror on the wall may never be able to show them what they are looking for and this may just be the right time to be done with all the pink and the blue.
Choosing furniture for kid's would depend on whether they are a boy or a girl. When it comes to bedding a girl would usually prefer canopy and bed skirts, however a boy would definitely opt for a comforter with patches of their favorite baseball or football team's symbols.

Selecting Rugs/Window Treatments That Enhance The Furniture



While selecting rugs for the room, look for low-maintenance materials such as polyester, wool or shrunk cotton.

Designs a girl would prefer could consist of a range of floral, polka dots, hearts or curves.
Color choice might include neon shades or bright pastels.

A boy would definitely want a burst of energy under his feet. Always remember to choose masculine colors for a boy, like something in deep blue, black, or bottle-green. A camouflage pattern or tie-dye design is sure to fascinate him.
The next most important thing on the list would be choosing a window treatment for your kid's room. A girl's bedroom could be draped with soft feminine colors. A creative idea would be to use a silk panel, a ribbon scallop, or even something like a lace curtain.
A guy's room could use something like a metro panel, striped shades, a geometric pattern or even a pattern to match the bedding.
Lighting with Furniture For Kids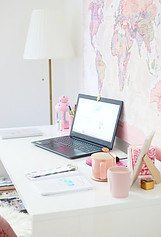 While choosing to light their room, you could make your choice from a variety of lamps ranging from table lamps, floor lamps, wall lights, bedside lamps and pendants or chandeliers. Whatever you choose, remember that kids often do homework and study in their bedrooms, so be sure to make a choice that will provide adequate light to that area of the room.
Remember…


Once you master the tips of making changes, you are sure to design a perfect room your child will love. Always make sure you don't overdo anything. The most important furniture tip: ask for your kid's input.
Let them be part of the decision-making.
They have their opinions and it makes them feel included in the change.

We have taken a brief look at furniture for kids. There's no need anymore for baby stuff. Yes, they're growing up. As previously mentioned, another change you and they may enjoy is picking out a color-coordinated rug.
This would be great fun to choose something that will complement their furniture. Rugs are available in all sorts of colors, shapes, styles and materials.

The rug you pick to go with their furniture is a terrific addition to a complete bedroom look. As parents, you had total say in the design of the baby room. Allowing your boy or girl to be a part of the decision-making for their next room decor will produce results that everyone will like.

The same is true when it comes to colors your kids prefer for furniture and decor. Girls and guys choose their favorite hobbies, stories, teen art, sports, decals… they have favorites you may not have even realized. Their input is important!

There's just one more thing to cover. You have to light up their room with floor lamps, table lamps, fans with lights, and on and on. There's a number of available choices available to go with furniture for kids.

An Important Safety Rule
It's not uncommon for parents to buy bunk beds for their children. It can be a great choice for saving space, and they are available in all types of materials, colors and styles.
Here's an update on bunk beds from the United States Consumer Product Safety Commission. This has to do with safety of bunk beds.
"The CPSC staff is participating in voluntary standard activities for bunk beds. They are currently looking with a committee to address hangings with bunk bed corner extensions and finials.
Performance requirements are geared to address hazards associated with falls from the upper bunk, entrapment, and structural integrity of the foundation support system. The standard also contains requirements for a warning label, manufacturing identification and consumer information regarding intended use of the bed.
CPSC also enforces mandatory rules pertaining to bunk beds. These rules reduce risks to kids from being trapped between the upper bunk and the wall, in openings below guardrails, or in other structures in the bed.
From January 1, 1990 through Dec 31, 2002, there were forty-seven incidents reported, involving hangings from bunk beds, not including entrapment hangings. Four of the incidents involved kids who were hung from the corner post extensions or finials of the bunk beds.
In an additional six incidents, it is known that the corner post of the assembly of the bunk bed was involved, but the specific area of the corner post involved is unknown.
Thirteen of the incidents involved kids being hung on parts of the bed other than a section of the corner assembly. In twenty-four incidents, the part of the bunk bed that the child was hung from is unknown."

Why
I shared this with you because as a father, and grandfather of nine grandchildren, I want you to be aware when safety could be an issue. That's why I only guide you to top brands of furniture for kids. If I wouldn't buy it myself, I sure wouldn't suggest it to you. Finally, there are many bunk beds that meet these strict standards. It's easy to check it out, right online.

With thirty-five years in the furniture and retail consulting business, my goal is helping you find that special furniture plus decor. Your choices will be a wonderful addition for your growing kid's room.

Enjoy the many possibilities at your fingertips, right from the comfort of your home.

The little ones aren't so little now. Help them choose from wonderful selections. Furniture for kids allows your inner creativity to make wonderful changes in their lives.




Carson Dane, Founder
Furnitureplusdecor.com